If you are planning a reunion in the next 18 months, please:
1. Contact Mary Jane Beavers, (336) 254-1055,with information for publication
in the newsletter and on the website.
2. Contact the Almuni Association, to get a copy of the mailing list for your class.
3. Contact Principal Moody, (336) 370-8180 x2014, to arrange for student-led tours
of the school during your reunion.
4. Contact Joe Franks, (Cell: 336-253-3161) to arrange for an alumni association representative
to come talk to your classmates about the association and making bequests.
5. After the reunion, send updated contact information for your class
to the Alumni Association.
Class of 1965

The class of 1965 will hold our 50th reunion the weekend of October 2-4, 2015. Stay tuned for further information, or contact Bob Albright: bob061347@aol.com 704-723-9339 or (C) 704-490-1067.
Class of 1995

It's been 20 years since the Class of '95 filled the halls of Grimsley High and we're going to do it again the weekend of September 18 - 20, 2015. Get ready for a football tailgate, campus tours and Saturday evening party at The Marshall Free House. For tickets, visit: http://www.payitsquare.com/collect-page/61491 or email mattbrown1977@gmail.com for more info.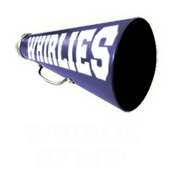 Send Us Your News!
Do you have some news for Whirlie Alumni's? Please email it to us and we'll add it to the site!